Today's Top 5 was a 30-minute music video series on RPN which premiered on August 15, 2013 and aired Thursdays at 10PM ET. The show was canceled in summer 2014 but will be revived on March 5, 2015 at 8PM ET.
Today's Top 5 was put on hiatus in November 2013 due to construction at the ROX Pictures Headquarters. The show made its return on March 27, 2014 airing at the same timeslot as previously.
On July 31, 2014, a music block was placed in Today's Top 5's timeslot before the premiere of Degrassi. RPN announced it would be creating a finale episode but no finale aired.
On February 22, 2015, RPN announced a new episode of Today's Top 5. The new episode will air March 5, 2015 at 8PM ET.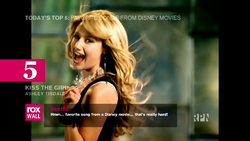 Today's Top 5 presents five music videos based on a predetermined theme. About a week before the airing, questions with the show's hashtag #TodaysTop5 are asked on the ROX Pictures group wall and those who answer have their response appear on-screen while the show runs. The show completely mimicks MuchMusic's now-defunct Today's Top 10, where a certain number of videos (in TT5's case, five) are rounded up based on a certain, predetermined theme. 
Episodes are streamed live via RPN's Ustream and are not available on YouTube due to music licensing.
| No. in season | No. in series | Title | Description | Airdate |
| --- | --- | --- | --- | --- |
| 1 | 101 | Premiere | The series premiere of Today's Top 5. | August 15, 2013 |
| 2 | 102 | Drake | Today's Top 5 celebrates the release of Drake's new album, Nothing Was the Same. | October 3, 2013 |
| 3 | 103 | Miley | Today's Top 5 celebrates Miley's new album, Bangerz. | October 10, 2013 |
| 4 | 104 | Disney Movies | Songs from Disney movies. | March 27, 2014 |
| 5 | 105 | Viral Videos | "The most annoying Top 5 ever!" | April 3, 2014 |
| 6 | 201 | | | 2015 |