For the specialty channel that was once separate from RPN2 but has since merged, see City.
RPN2 was a Robloxian specialty channel owned by ROX Pictures. It was planned to be the second RPN channel, hence the name RPN2. The channel was formerly known as WM Network.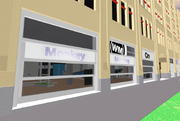 RPN2 was originally known as WM Network, and owned by WarMonk3y's (now Sazux's) WM Productions. The channel was rebranded as RPN2 on October 12, 2013. RPN2 acquired
The Monkey Show
, which was renamed 
Monkey: The Show.
The studio was transformed into an RPN2 set, with multiple RPN2 mocks around the new studio. Due to inactivity, the
Monkey
studio was taken down on February 1, 2014. The show's former studio space on the street level of the
ROX Pictures
Headquarters, next to the
RPN
studios, remains vacant.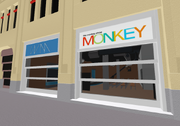 On November 17, 2014, ROX Pictures merged RPN2 with City, in order to reduce the number of inactive channels owned by ROX Pictures.
Programming
Edit
No shows were ever announced for RPN2, but originally, the aforementioned Monkey and Gavent Network's Gavent were set to air, but these shows were removed from RPN2's lineup due to inactivity.