ROX Sports Network (usually referred to as RSN) is a Canadian Robloxian sports channel owned by ROX Pictures. The channel is going through final testing stages. RSN focuses mainly on NBA programming. The RSN Studios are located at the ROX Pictures Headquarters. 
Development
Edit
RSN began testing different formats in 2015. Final development and testing stages began on March 15, 2016. 
The RSN Studios are located at the ROX Pictures headquarters. There are currently two test studios at the ROX Headquarters, a street-front studio next to RPN and a larger two-story "RSN on RPN" studio directly on the floor above it. RSN's new flagship studio dubbed "Studio J" began construction on March 18, 2016 in the building bridged next to the main ROX Headquarters building. The new flagship studio is set to replace RSN's 2nd floor studio at ROX. On April 2, 2016, it was decided that the entire second building would be completely revamped and converted into a full RSN building after ROX's decision to move all RSN studio productions out of the main building. All current RSN studios in the main building will be removed after the new RSN building opens. Construction started on April 3, 2016.
Programming
Edit
RSN programming currently airs on RPN as a programming block called "RSN on RPN".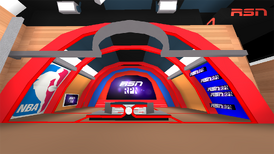 NBA on RSN
Edit
Open Gym (Presented by Bell), a documentary series showcasing the journey of the Toronto Raptors on and off the court.
Personalities
Edit
RSN currently shares the same on-air personalities as RPN.
Ad blocker interference detected!
Wikia is a free-to-use site that makes money from advertising. We have a modified experience for viewers using ad blockers

Wikia is not accessible if you've made further modifications. Remove the custom ad blocker rule(s) and the page will load as expected.