ROX Pictures, often referred to as simply ROX, with or without additional capitalization, is an independent Canadian Robloxian mass media company created by Jonathanroxcp. ROX operates The Jonathanroxcp Show, ROBLOX's #1 daytime talk show; and RPN, the first music television station on ROBLOX. ROX Pictures specializes in creating Robloxian versions of IRL entertainment television networks. ROX Pictures is known for creating quality content.
The first video from RoxMuvees was uploaded June 6, 2009 on jonathanroxcp's original YouTube channel. RoxMuvees produced short comedy ROBLOX clips until April 2010.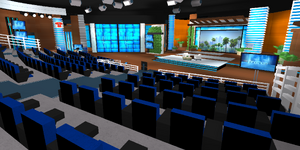 With the launch of The Jonathanroxcp Show, RoxMuvees was relaunched as ROX Pictures. The Jonathanroxcp Show made its first appearance on the last official RoxMuvees clip The Wand. Jonathan took the ROBLOX television industry by storm as one of the most realistic television studios ever built and played a big role in the relaunch of ROX Pictures since it was the first show to be part of ROX. More shows were later partnered with ROX, which helped launch of the ROX Pictures Network. In May 2013, The Jonathanroxcp Show, which has since become the network's flagship show, and the most popular Robloxian talk show, went out of production. The Jonathanroxcp Show is still ROX's most famous asset.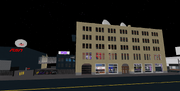 ROX's headquarters were originally located backstage of The Jonathanroxcp Show. Construction for a new building began in May 2013 before the Jonathan Show came to an end. RPN changed to a music station format in June 2013 and ROX officially began operating from its new building in August 2013.
On August 15, 2013, music countdown show Today's Top 5 premiered on RPN, being the first show created at the new RPN Studios at the ROX Pictures Headquarters.
Operations
Edit
ROX Pictures owns the following assets:
ROX Pictures also promotes Bell Media programming.
Headquarters
Edit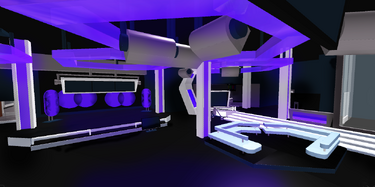 The ROX Pictures headquarters, located across the ROX Pictures Studios, are designed to be one of the most advanced and innovative media complexes on ROBLOX. The building is the home of RPN, MTV, City, and RSN. The ground level of the building houses multiple studios including two separate street front studios with giant glass sliding partitions that can be opened to the streets. The street front studio that is nearest the street corner belongs to RPN, while the second has had multiple changes over the years.
Building tenants
Edit
Ground floor
Edit
Current
| Tenant | Years active | Description | Street-front? |
| --- | --- | --- | --- |
| RPN | 2013-present | RPN's main studio | Yes |
| RSN | 2015-present | Sports network under test run | Yes |
| City | 2014-present | City's main studio | No |
Past
| Tenant | Years active | Description / reason for closure | Street-front? |
| --- | --- | --- | --- |
| WM / RPN2 | 2013-early 2014 | The Monkey Show studio, closed due to inactivity. | Yes |
| Much & MTV | May 2014-December 2014 | Studio for Much-branded content, shared with MTV. Closed to remove the Much brand from ROX. After the closure, the space was opened to the public for a short while. | Yes |
Second floor
Edit
Current
| Tenant | Years active | Description |
| --- | --- | --- |
| RPN | 2013-present | roTalk studio |
| MTV | 2014-present | RPN2's former studio, rebranded |
| RSN | 2015-present | Larger test studio |
Past
Tenant
Years active
Description 

/ reason for closure

RPN2
2013-2014
Main studio. Abandoned due to RPN2's merge with City. MTV is now in the process of moving into the studio and has chosen not the change the studio design, except for replacing the logos.
City
2014
Flake. studio, closed due to the host's inactivity.
Gavent Network
Early 2014
Gavent studio, closed due to disputes between GN and ROX.
Bridged building
Edit
Current
| Tenant | Years active | Description |
| --- | --- | --- |
| RSN | 2016-present | Network studio, under construction |
Ad blocker interference detected!
Wikia is a free-to-use site that makes money from advertising. We have a modified experience for viewers using ad blockers

Wikia is not accessible if you've made further modifications. Remove the custom ad blocker rule(s) and the page will load as expected.