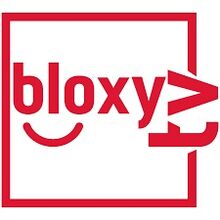 In this list we will show you the channels owned or maintained by BloxyTV. Some of the channels marked with* are currently broadcasting.
Current Channels
Edit
BloxyTV1* (December 17th 2015 - present day)
Edit

BloxyTV CHANNEL is BloxyTV's general entertainment channel that has regular content. It was launched in 17th December 2015 as BloxyTV.
BloxyTV EUROPE* (March 28th 2017 - present day)
Edit
BloxyTV EUROPE is BloxyTV's second channel which has only european made content. in October 4th 2017 it will be renamed to BloxyTV2.
BloxyTV3 (1.1.2018 - present day)
Edit

BloxyTV3 is an planned channel with mixed programming of BloxyTV1,BloxyTV Europe (Soon to be BloxyTV2) it will be the flagship channel. the channel will replace NordicTV.
NordicTV (?.9.2017 - 1.1.2018)
Edit

NordicTV was an channel operated by enstex and with the help by BloxyTV. The network aired some of the reruns from the BloxyTV Network. it was announced that BloxyTV3 will replace NordicTV in new year midnight. and NordicTV will rename to NTV.
NordicTV had an option for using extension channels such as NordicTV+
Cancelled
Edit
BloxyTV CHANNEL-2 (CANCELLED)
Edit

BloxyTV CHANNEL-2 Is BloxyTV's planned sister channel to BloxyTV CHANNEL. It shows same program as BloxyTV CHANNEL but this is for re-running. This was quickly cancelled to be able to launch BloxyTV2.
BloxyTV RST 5 (PLANNED)
Edit

BloxyTV RST 5 (ROBLOX SVENSKA TELEVISION FEM) Is BloxyTV's swedish roblox television channel that is designed for swedish people with swedish programming as well as SVT programming.