Gavent Network Headquarters is the headquarters of the namesake Gavent Networks. There are currently two buildings on the property. One includes recording studios for shows including Gavent, Movietime, and other GN shows. The other building includes the production studios for the networks, along with JERK's production offices, GTV News' newsroom and set and AGavent's office. A parking garage is also located behind the production office building, with direct access to the building.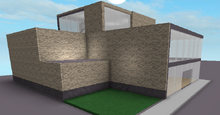 Construction on the headquarters for Gavent Networks began on January 17, 2016, with the recording studios. The HQ remained mostly dormant, until May of 2016, when two extra studios were built, along with a brand new second building. The second building serves as a production office building for the networks (GTV, Flickz and Roblox Music Television(RMTEDM shares offices with RMT)), as well as the offices for production studio/ROBLOXiwood studio JERK, and the office for AGavent. Gavent Networks is also considering building a small office for the RTNG on the third floor.
On September 20, 2016, the second building was expanded, with larger offices for JERK, an extension of the GTV offices, and a news studio on the second floor. The news studio is for a news block on GTV, managed by Buddbudd222.
Later on (sometime between October-November 2016), a third building was built for the headquarters, which was mostly third-party offices. Offices included the now-independent JERK's satellite office, the Roblox Television Networks Group's secondary offices, and a large soundstage for use by Gavent Networks.
Ad blocker interference detected!
Wikia is a free-to-use site that makes money from advertising. We have a modified experience for viewers using ad blockers

Wikia is not accessible if you've made further modifications. Remove the custom ad blocker rule(s) and the page will load as expected.